The project is curated and interviews made by Kajsa G. Eriksson.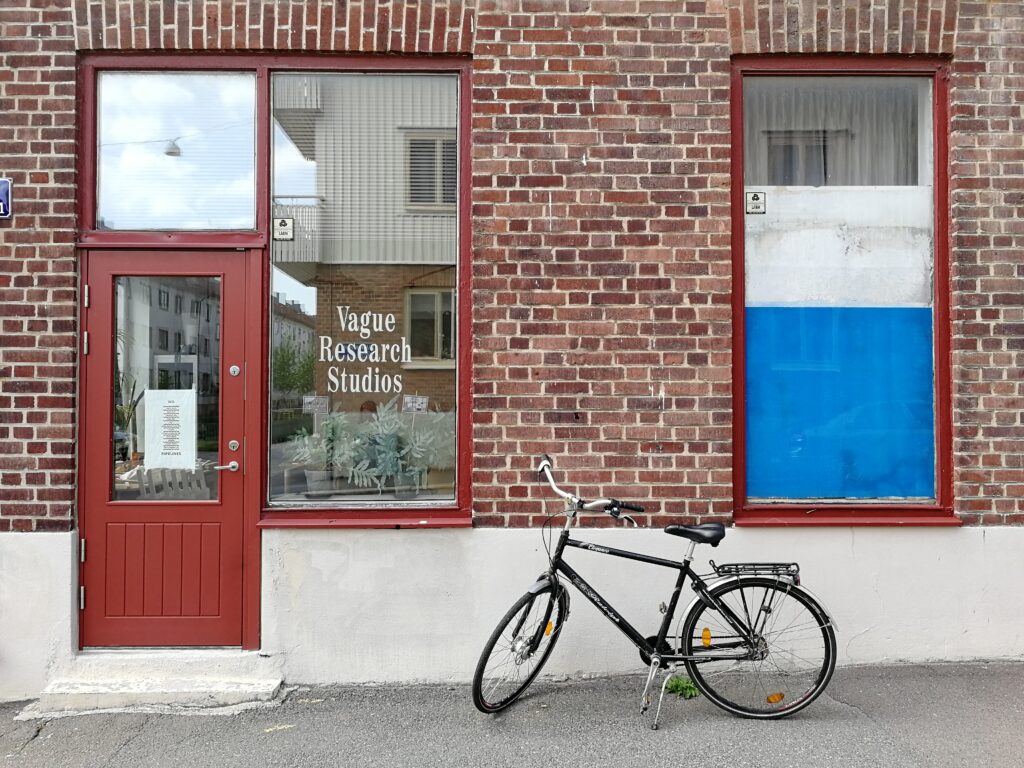 The Door – The Visionary Void belongs to Vague Research Studios in Majorna, Gothenburg, Sweden and is passed daily by residents, craftsmen, dog owners, and many more passing to and from tram, school and pre-school. A small exhibition space that is accessible to a local audience at all hours, and all days of the week.
The topics of the exhibited artists´ show ambitions to contribute to a transformation of society. This is an in-between position, between individual art making, group activities and goal driven agencies. In the artists talk below we use this and the art works as a starting point for our discussions. And, in order to be less wasteful with energy in general and artists´ energy in particular, and to work against the cravings for "the new" we ask the artists to re-use or re-work already existing art works when showing at "the Door".

---
Presenting Johanna Willenfelt (Gbg), 4 – 27 Nov, 2022
Johanna Willenfelt shows "Ward 102" a scene from "Ode to Vulnerability", a performance lecture presented at the Museum of Medical History at Ulleråker in Uppsala, a site with a long past as a psychiatric hospital. "Ode to Vulnerability" by Willenfelt takes its starting point in authentic medical records of individuals committed to Upsala Hospital and Asylum in the beginning of the 20th century. In a matter-of-fact account, the artwork intertwined historical and contemporary inpatient experiences of psychiatric care into a speculative, narrated monument over strategic silences, failures, and modes of resistance. "Ode to Vulnerability" was a part of the public art project "Frenzy to Cure" in Uppsala 2022.
Johanna Willenfelt (Gothenburg) works across and in-between literary composition, art writing, and performance. Her practice centres on a critique of prevailing traditions of thinking pain and suffering, particularly interrogating the story of pain of femininely coded and non-binary persons. Willenfelt researches and reassesses medical and social archives and is working site-specifically and site-consciously with her material.
Presenting Maya Weeks (CA, US), 7 – 30 Oct, 2022
Maya Weeks shows "sometimes i want to be the log in the water," an excerpt from the project Hold Fast, a book of poetry whose title is a play on both feminist research methods and seaweed biology. Hold Fast was written using qualitative and creative research methods as part of Weeks' dissertation in geography, Death to Disposability: Marine Debris as Violence at the University of California in Davis (2022).
Maya Weeks is a transdisciplinary artist, writer, and geographer from California working on ocean justice with particular attention to climate, pollution, and gender. She lives and works on unceded yak titʸu titʸu yak tiłhini Northern Chumash land.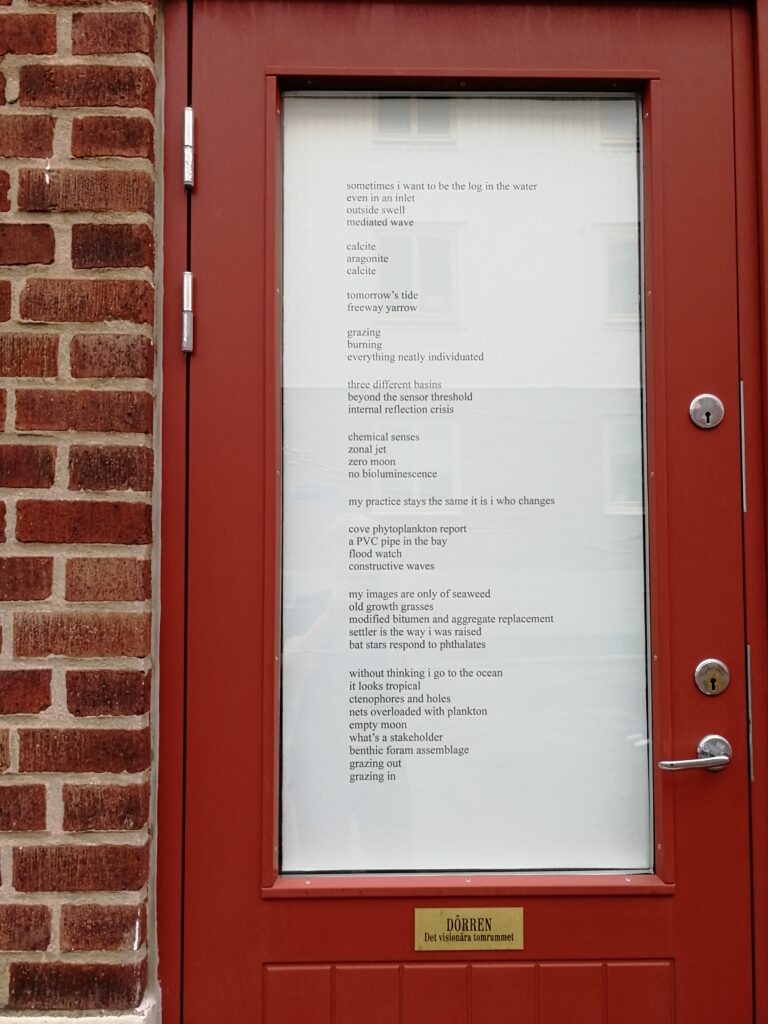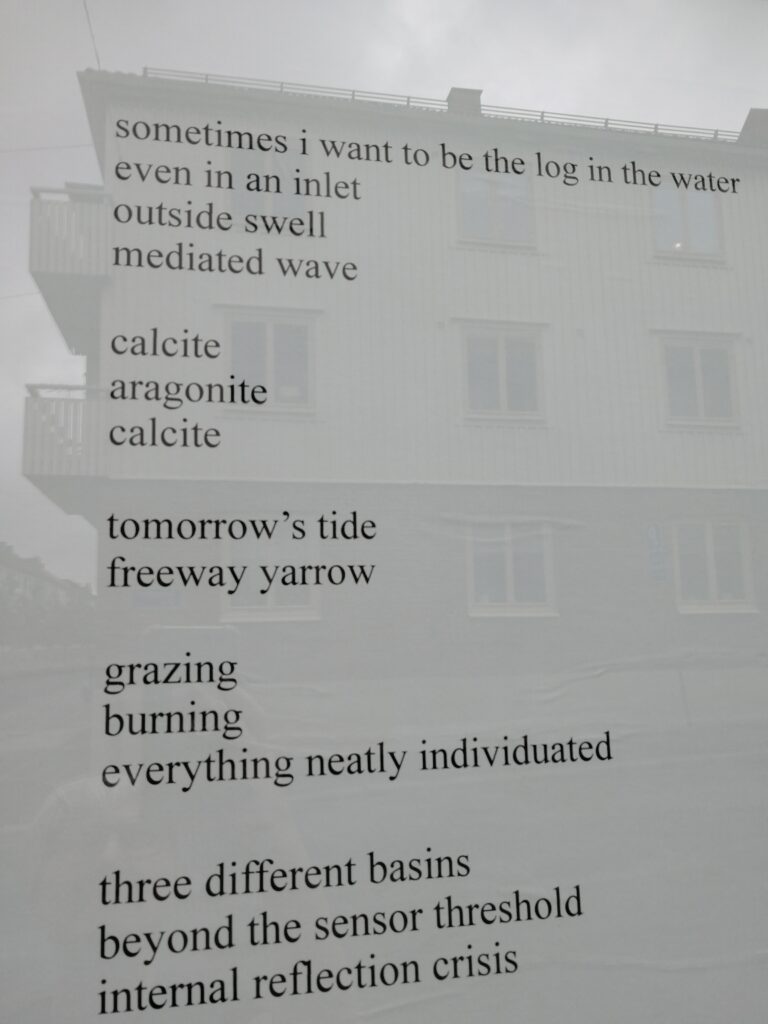 Presenting the Summer Door 2022
Presenting the project SAND (micro plastic) as a poster and a pdf. An exploratory environmental art project by Fredric Gunve och Kajsa G. Eriksson (Gbg). Photographs and texts are from an experimental workshop by the sea in Bohuslän's archipelago in 2017 and was part of the seminar "Five Narratives of West Coast Water" at Sven Lovén Marine Infrasturcture – Tjärnö.
Download the project results as a pdf here: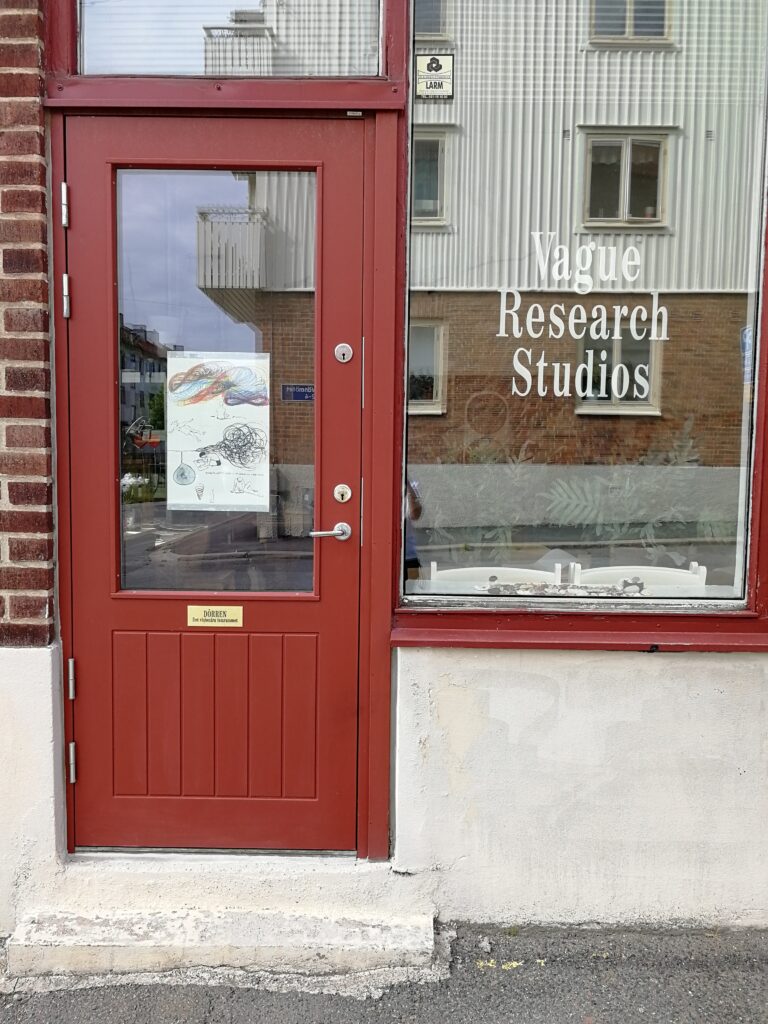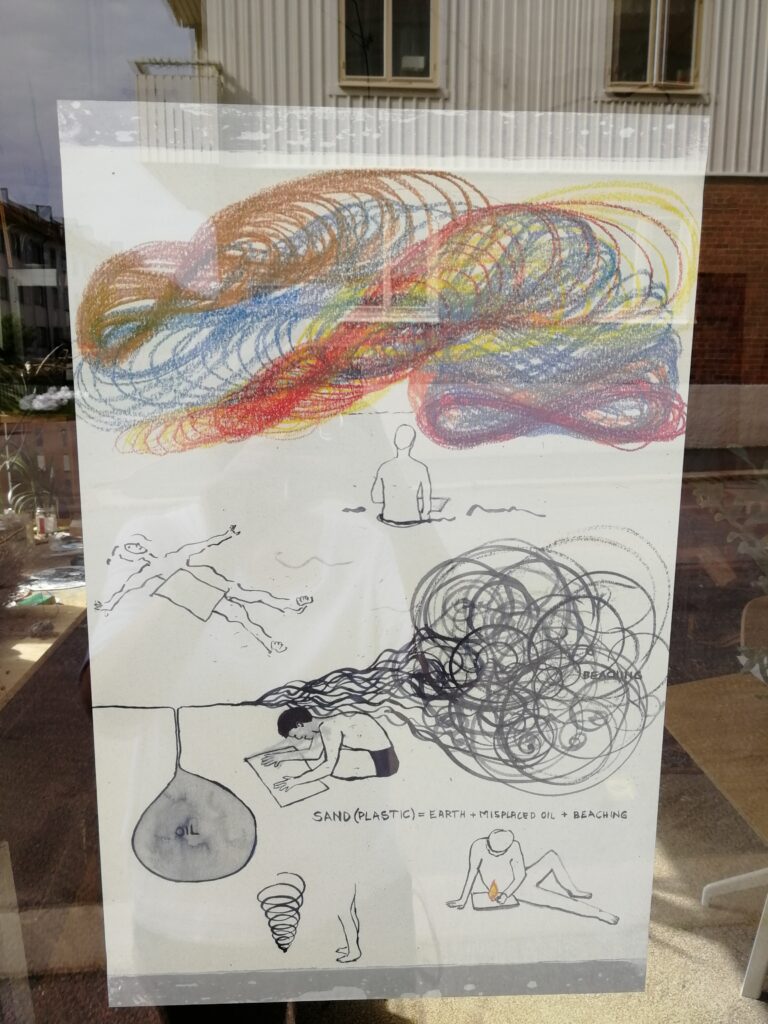 Presenting Linnéa M. F. Larsson (Uddebo), 3-26 juni, 2022
Linnéa M. F. Larsson shows the project and publication 'Dreamfactory – the other weaving mill 2021'. The Dreamfactory is an open platform for those interested in coming together in places that bear traces of textile industries. During three editions, the question has been asked in Uddebo, Sjuhärad; where did textile production go? What do we want to do, here and now?
The publication presents 'Dreamfactory – the other weaving mill 2021'; a "budkavle" (budkavle=historical information sharing practice) that is being written and forwarded today in a letter chain that moves in a slow zig-zag pattern across the globe.
Linnéa M. F. Larsson is an artist based in Uddebo, a place where new cultural platforms are formed. She initiated the Dreamfactory (Drömfabriken) 2019, which exposes her own confusion to the dominant structures in the world. Simultaneously, issues of ownership, work and finances are examined and processed from different perspectives and with different methods, techniques and materials. L. M. F. Larsson is both passionate about (and also burns) textile in performances and text.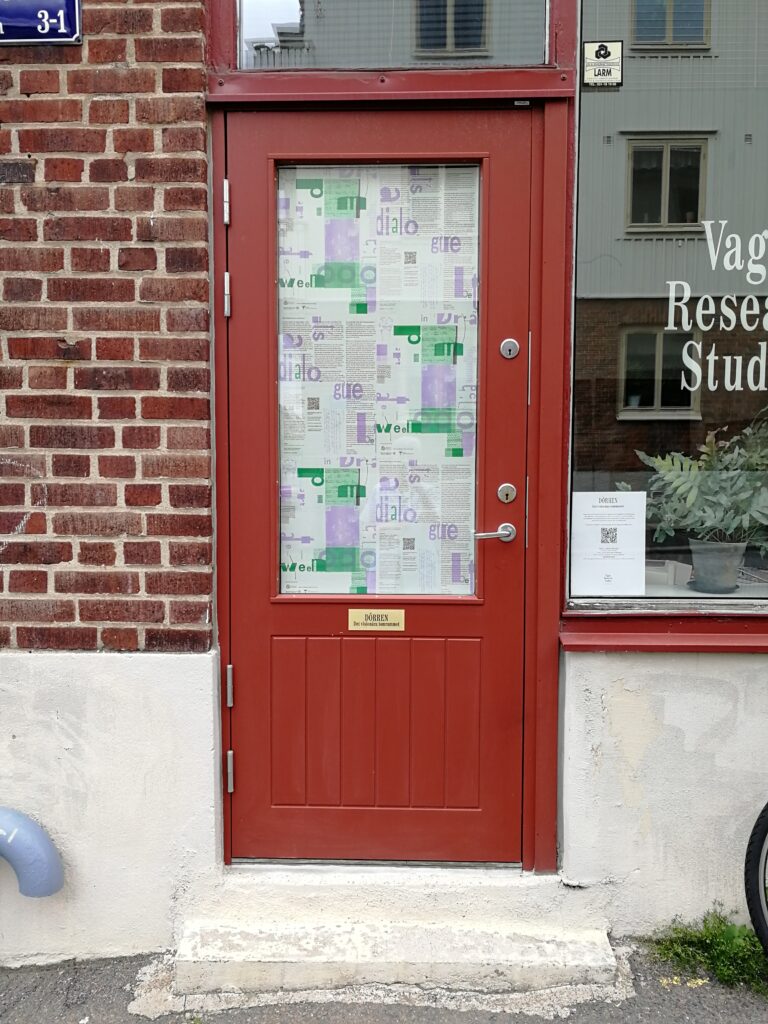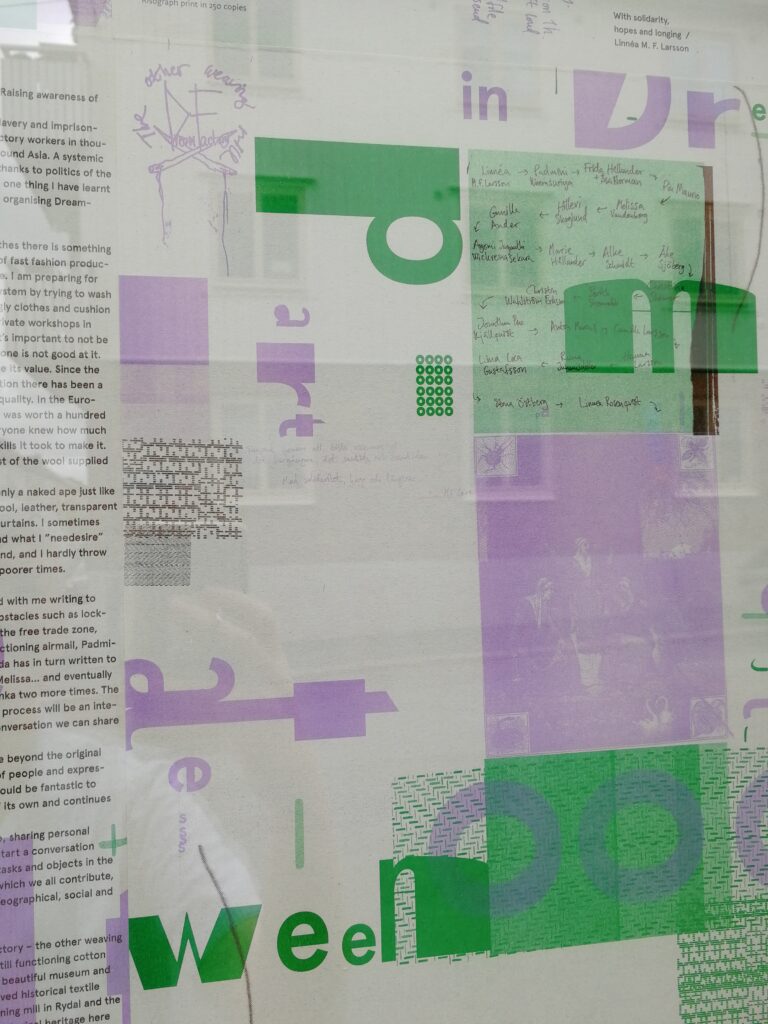 Presenting MC Coble (Gbg, SWE) (US), 6-29 Maj, 2022

MC Coble shows the art work "Movement Transitioning Between Bodies". This is a new poster in a series of recently developed drawings that begin at the start of Covid-19 as a method of not only processing what was happening but a mode of connecting to others and of political protest.
"Movement Transitioning Between Bodies" reflects on the challenges of making sense of our world in this moment. Bodies fighting for safety from war, for trans* health care, for climate justice. Bodies that are changing, waiting, feeling and resisting. Bodies of water, fur, wind, soil, flesh and roots. Formed by the spaces between. Bodies supporting bodies.
MC Coble (hen) is a non-binary trans artist, activist and educator aiming to manifest problems of bodily, societal and symbolic navigation particularly focusing on issues of social injustice and normative boundaries. Often working site-specifically, research-based and collectively, engagement with artistic practices and interventions within and outside of established institutions and the use of activist strategies are integral to Coble's ways of working.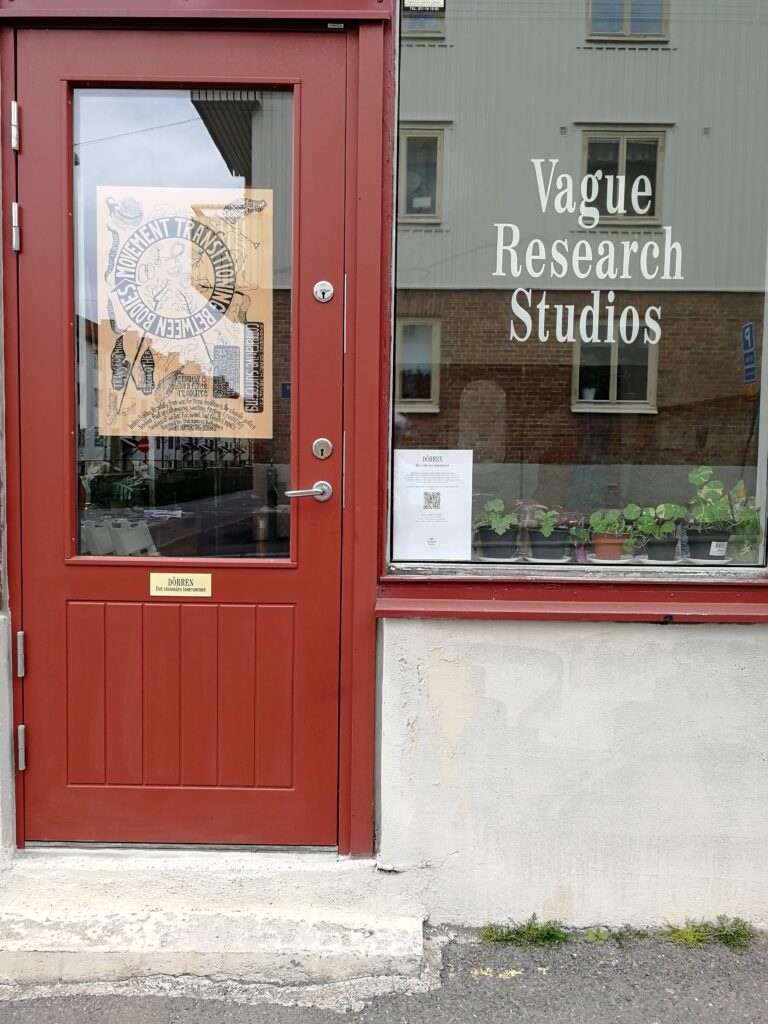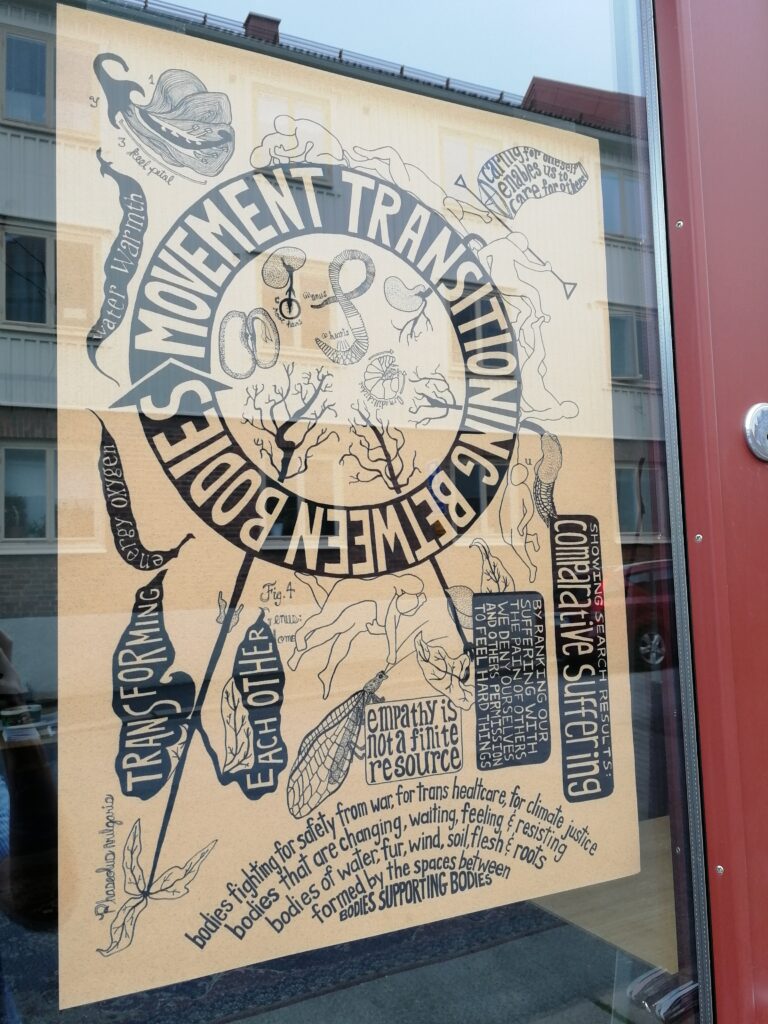 Presenting OTALT (Arvika, SWE), 1-29 April, 2022
OTALT shows "Women Walking Talking Grieving", a performance that explores women's place in nature, the idea of ​​nature reserves and grief over the loss of habitats. This performance and art project explore how other stories of humans and nature can be created by narratives from non-normative perspectives. By our physical and mental experience, and joint conversations, we delve into the relationship between humans and nature. Being, walking and occupying space in nature reserves become significant parts of creating an embodied process of grieving the loss of biodiversity, landscapes and habitats, as well as climate change and examples of destructive relationships between humans and Earth, and between humans.
OTALT is a group of feminist artists based in Arvika working with performance and relational art projects. They often work with art in public space and in connection to local communities where their audiences become collaborators and co-creators in formats belonging to visual art, performance, poetry and cultural heritage. https://www.facebook.com/OTALTarvika Email: otalt.arvika@gmail.com